Every year at this time, Technomic releases their findings on the study of menus across the country. Their goal is to gain insight on trends, eating habits, and market penetration of various menu items. Not only are their findings interesting in terms of understanding what consumers want, but they also shine light on areas where businesses may find opportunity for growth. So today, we're sharing their report with you and highlighting some of the most popular menu trends and ideas for how you can implement them into your own foodservice offerings.
Mac and Snacks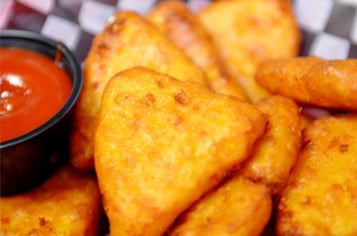 Mac and Cheese is one of my personal favorites, and since I'm a millennial, it's not surprising that I'm a fan of the cheesy comfort food. Technomic reports that 53% of the time mac and cheese is ordered, it's by a millennial, compared to just 19% with Baby Boomers.
Beyond that, Mac & Cheese has remained on America's list of top ten comfort foods for decades, so as far as I'm concerned it's a staple. Technomic shows an increase in the amount of Mac & Cheese snacks being offered. And you don't need to look far to see that menu trend booming. Even Burger King has hopped on the Mac & Snack train, offering their Mac and Cheetos!
Curious as to why people order snacks instead of meals at restaurants? 54% of people reported not being hungry enough for a full meal and preferred the smaller portion. 49% say they order snacks to save money and 43% say they order snacks to eat healthier, although in the case of Mac and Cheetos, I'm guessing health isn't the main driving factor in purchase decisions!
If you're looking to add Mac & Cheese snack style appetizers to your menu, rebate partner, McCain Foodservice, offers a wide variety of appetizers including Mac & Cheese wedges! Jazz them up with a special dipping sauce or serve them on top of a burger for a delux add on!
Harissa Heats Up
Never heard of Harissa? You better wake up, because this flavorful condiment is making waves on menus across the country, up 30% on appetizer menus and 50% on side dish offerings. Harissa is a spicy and fragrant chile paste that's commonly used in North African and Middle Eastern cooking. It's typically composed of smoked hot chile peppers, garlic, olive oil, cumin, coriander, caraway and mint and pairs well with just about anything!
Technomic shares that Harissa makes for excellent cross cultural applications. It's a perfect substitute of salsa on tacos or as a topping on an egg sandwich for breakfast. Incorporating harissa into your menu is pretty easy since it pairs well with so many foods! Did we mention it also makes for an excellent fry topping? Add some cheese to that and you've got a middle eastern twist on poutine!
Mozzarella Madness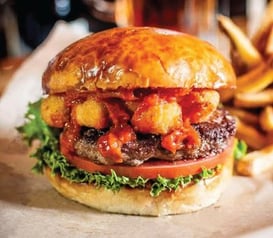 Because fried foods never really go out of style, mozzarella sticks are making a splash on menus with unique innovations. Seen now as more than just an appetizer, you'll find these deliciously fried cheese sticks as toppers on Italian dishes, fillings in sandwiches and in mini form as a side dish! In fact, of all the appetizers that have made their way over to main dish territory, Mozzarella sticks leads the pack at 23% infiltration. Behind it you'll find chicken wings at 16% and bruschetta at only 15% cross over.
To add those stringy sticks to your menu, consider using them as pizza and burger toppers for a nice cheesy twist. They also make great toppings in smaller size for salads, loaded fries and even chicken parm! We also love cheese curds as another fried cheesy twist on this menu trend. Our rebate partner, CurdTown is a perfect place for more crossover inspiration.
Other Trends to Watch
Fried foods made their way into Technomic's menu trend list two more times before their study was complete. Both Fried Green Veggies and Nashville's Hot Chicken also are on the rise in menus across the country. Nashville Hot Chicken actually saw a 10% growth in menu mentions in the last year.
When it comes to beverages, the main trend moving forward is wow-factor drinks. Options like nitro-infused cold brew, over the top milkshakes, and color-changing slushies are on the rise and really impressing consumers. The key is to make the drink special and give the incentive for the consumer to pay a little more for something they can't get anywhere else.
In terms of more general consumer interests, most consumers agreed that they want good value from any foodservice location they visit. What does good value mean to consumers? Based on Technomic's 2017 Value and Pricing Consumer Trend Report, most consumers agreed that good value means paying a fair price for a generous amount of great-tasting food. No problem, right!?
Share this post