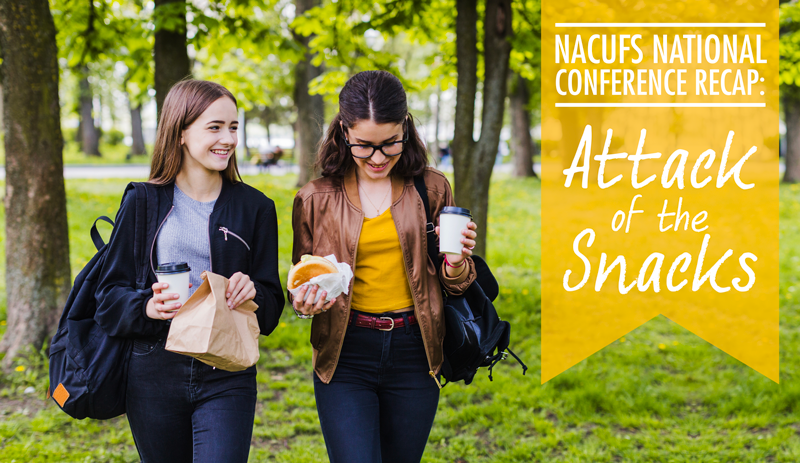 Snacks are an increasingly important part of the foodservice world. This was widely evident while attending the 2017 NACUFS National Conference last week. The four day conference for college and university foodservice professionals focused heavily on the growing trends and opportunities in the on campus dining world. One trend we couldn't help but notice was the snacking trend. With educational sessions focused on snacking and on-the-go foods and plenty of snacking vendors inside the showcase, it's clear where student priorities are headed. So today we devote the blog to the student snacking trend and look at how AutoFry and MultiChef fit that need!
Why Snacking?
We already know that millennials love to snack, and with a combined spending power of over 1.1 trillion dollars, they're making their mark on foodservice in big ways. And since millennials are the market you're targeting in the campus dining world, it makes sense that snacking played such a huge part at the NACUFS National Conference.
Snacking is appealing for a number of reasons. First, snacking is incredibly convenient for busy students who may not have the time to sit down for a full meal. Second, millennials are far more health conscious than previous generations and snacking throughout the day often leads to healthier food choices. Fruits and veggies are somehow more appealing in snack form, and science shows that small bites throughout the day can actually lead to weight loss over traditional 3-meal/day diets. Finally, snacking leads to a wider variety of flavors, textures and good eats! Since millennials love variety it's no surprise they love snacking too.
Maximizing Snack Efforts
Colleges and Universities can make the most out of this trend with some specific strategies for snack sales. First, make sure you've got a wide variety of options for students. Salty to sweet, hot to cold, crunchy to soft, give your students the variety they crave!
Second, NACUFS suggests making sure all of your snacking options are built for on the go snacking. Your students are busy and will probably be eating on the run. Make sure packaging and offerings reflect that busy lifestyle.
Third, made-to-order is still in season! There is nothing worse than old soggy snacks. No one wants to bite into something that should crunch only to have it fall flat. So make sure if you're offering prepared foods that you can do them in a made to order fashion. The speed at which you can make items should be short since your students are going to be pressed for time, so pick items that can be fast baked or fried.
Finally, watch the clock! Snacking habits are going to vary based on the time of day. Granola bars, french toast sticks and yogurt are likely to be more popular in the morning -- French fries, popcorn and trail mix will likely find a better audience in the afternoon and evening hours. By tailoring your offerings to the clock you'll have a better chance at capturing students cravings!
Why AutoFry and MultiChef?
When it comes to made to order, no one does it better than our dynamic duo of ventless kitchen equipment. From frying to baking, roasting, toasting or even steaming, AutoFry and MultiChef can do everything you'll need to ace the snacking game. Best of all, both pieces of equipment are extremely easy to use, and perfect for the college campus setting where you may or may not have access to ventilation systems.
For more on AutoFry or MultiChef check out their hyperlinked titles.
Happy FRYday!
Share this post