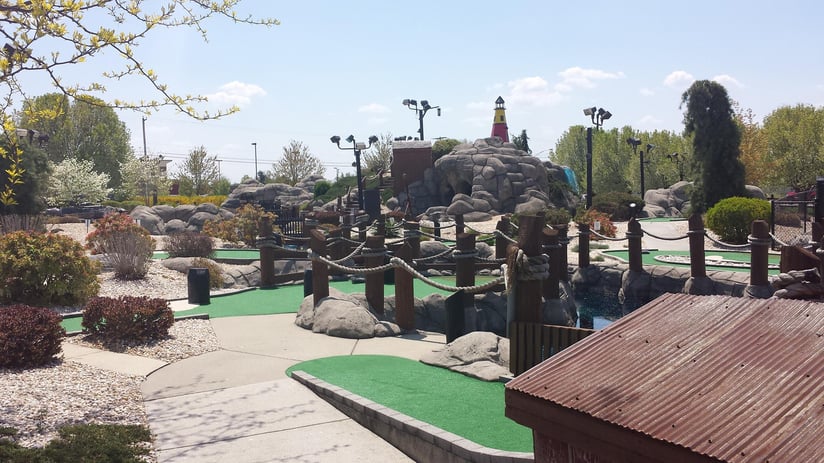 There are few things in this world that are fun, safe AND reasonably priced for children to enjoy. Sure they could just go outside and use their imagination, but we both know that Generation Z isn't going to put down their iPhone for just their imagination and some sunshine. Which is probably why we've recently seen a resurgence in the family entertainment center segment. Parents want their kids to be more active and kids want a fun experience to tell their friends about – and FECs fit both of those needs.
One of our favorite FECs is a seven acre fun factory located in Hanover, PA. Hickory Falls Family Entertainment Center is THE place to go have fun in Hanover. From their mini-golf course to their go carts, this place is buzzing with activity from open to close! Best of all, their pricing is super affordable, making it the perfect destination for families of all sizes. Today we look at another great example of AutoFry in Action at Hickory Falls!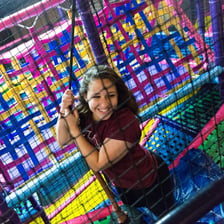 Since 2002, Hickory Falls has been bringing smiles and laughter to kids of all ages at their family entertainment center. This massive attraction includes an 18 hole miniature golf course, indoor play area, rollerball bowling, three level laser tag arena, expansive arcade and even an indoor/outdoor go-kart course! They're well known in Pennsylvania as the place to go for fun, and with that many options it'd not hard to see why!
The Falls is also well known for throwing an amazing party. From their birthday party packages to their function hall for full scale events, this place has it all! Best of all, you don't have to spend a fortune for a good time! Birthday packages start at just $25/child and include unlimited time in their indoor play zone. With four tiers of party to choose from you can go basic or balls to the wall – and Hickory even has a teen party package including unlimited laser tag, go-karts and golf!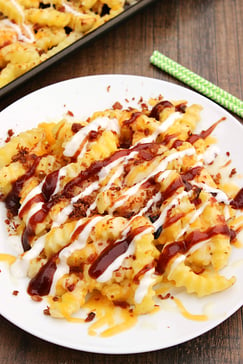 Because no day of fun or birthday party would be complete without some good eats, Hickory Falls brings the flavor with their super affordable snack bar. From $3 french fries, $4 fish sandwiches and super affordable combo meals, the Falls has got their foodservice game down! And since they're doing their frying with the one and only AutoFry, you can be sure they're serving the BEST.
One last phenomenal feature to mention about Hickory Falls is their commitment to safety. Not only are the committed to providing children with a safe environment for fun, but they also have Distracted Driver program. In what I'm calling the coolest police partnership ever, Hickory falls has teamed up with local police department to educate young adults of safe driving practices. Attendees of their program have the chance to drive the Hickory Falls Distracted Driving go-kart through a road course with and without impairments utilizing "drunk goggles". Each cone throughout the road course represents another person, car or structure and provides them a hands on approach of their personal driving skills while driving distracted or under the influence of alcohol or drugs. Seriously, how cool is that?
If Hickory Falls sounds too good to be true, it may be time for you to take a trip to Hanover, PA to check it out yourself. OR check out some of the things their patrons had to say:
"We scheduled a birthday party there for my Grandson. Our party rep, Brooke, was excellent. She did such a great job with the kids. The food was wonderful. And there is so much to keep everyone busy. It's a great place to have a birthday party. Show up, have fun, and leave the mess there. What more could you ask for. I was very happy with our experience." – Shirley D. on Facebook
"Love this place!! Hickory Falls is perfect family fun on a budget. They offer an indoor play area, arcade, laser tag, rollerball bowling, go-karts, mini golf, and a small snack bar. The indoor play area is clean and children MUST wear socks. My kids (ages 6 and 7) can play for hours in the play area… The mini-golf course is well kept and provides the perfect level of challenge for all family members. The snack bar serves pizza and other finger foods. The prices are extremely reasonable. Hickory Falls also offers facilities for large group outings or small birthday gatherings. Free wi-fi is available for parents to use while the kids play! We love this place!" - Jennifer on Trip Advisor
"Great family place, the atmosphere it's just so friendly and the staff so welcoming definitely a place to spend a day with family. Thank you for your kindness" Christopher V. on Facebook
"4 hrs, 3 kids, 18 bucks, priceless: I brought my two young children and my niece to play at the indoor playground at 6$ a piece you can't beat it. We got there at 2:30 and left at 6:30. They have food, the fries taste like boardwalk fries. Everybody that was leaving the arena was leaving with a smile. I'm glad we found this place a great way to wear out the kids." Flochis on Trip Advisor
"Wow. This place has expanded over the years. Clean operation. Friendly staff. Lots to do both outdoors and in the cool of the AC and now a Ritas with a large pavilion with comfortable seating. A best kept Hanover secret. Laser tag. Go carts and much more. Our family could easily spend the day here." D. on Google Reviews
To learn more about Hickory Falls, check out their website! Also, be sure to watch our video below from our most recent trip to IAAPA where we talk to Hickory Falls owner, Jeff Stern, about his AutoFry and how it's impacted his business!
Share this post