If there is one thing I can say about millennials, that I am positive is true, it's that we like to shop online. There is huge appeal in shopping from the sofa on my laptop, or even on a long car ride from my phone. Having access to a massive variety of whatever product I'm looking for and being able to shop around on price? It's a win-win in my millennial mind. But it's not just millennials, it seems everyone loves to shop online, and who wouldn't – the convenience of it all is just too perfect to pass up. This is the driving force behind our AutoFry webstore. Sure, you can get parts elsewhere or even with a phone call, but isn't it nice to just be able to purchase a pack of filters without ever having to leave your seat? The AutoFry webstore carries parts, accessories and cleaners, it really is a convenient one stop shop for all things AutoFry. So today we put the focus on the AutoFry webstore and shine some light on some products you may have never heard of before!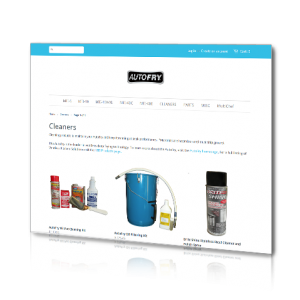 Cleaners
Like any piece of equipment out there, you have a set procedure both daily and weekly that keeps your machine clean and in good working order. And while cleaners are available at most stores, we sell some really high quality, high-powered cleaners – built specifically for AutoFry. This means you'll have peace of mind knowing it won't damage your machine and it will work well. Our Carbon Grease Remover is exceptional at removing caked on grease and dirty carbon build up, and it's available as a liquid or as a convenient aerosol spray. Our Boil Out Fryer Pucks make cleaning your oil pot easier than ever and our Brite Shine Stainless Steel Cleaner will keep your machine sparkling like it's brand new – also available in convenient wipes or an aerosol spray.
Parts
As with all machinery there will be times where parts will need to be replaced due to wear and tear (especially on our machines, since they've been known to stay in operation for 20+ years!) The AutoFry webstore has the parts you need to keep your machine up and running. Whether it's a thermocouple socket, heater relay, exhaust fan or just need cover plate knobs – the webstore has you covered. Plus our talented service agents are happy to walk you through installation procedures, making part replacement a breeze.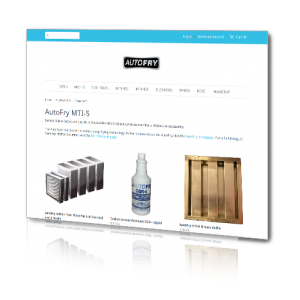 Accessories
And what shop would be complete without some accessories? From our Miroil filtering system to heatlamps, French fry scoops and even door keys, the AutoFry Webstore has a great selection of items to make owning an AutoFry even easier. Plus, we're constantly taking customer feedback and making additional accessories available based on recommendations!
New and Exciting
As I mentioned, we're constantly upgrading and adding to our webstore to make your life easier! This means it's the first place we list new items. Items like the brand new Half Inch Valve Brush, which you can use to remove caked on oil from your AutoFry valves. We also frequently run specials and sales on our webstore, like for this October only we are running a 20% off sale on AutoFilter, the most convenient, fully automatic filtering system available for AutoFry. PLUS if you sign up for our filter reminder program, we'll send you additional promotional codes to use on the webstore like $10 off your first filter pack!
So head on over to the webstore, look around and definitely sign up for our filter reminder program. There are so many ways to save and shop conveniently, you'll wonder why you've never been to the AutoFry Webstore before!
Share this post