AutoFry is one of the most versatile ventless fryers available on the market. We are the only automatic deep fryer available in four different sizes and with multiple variations of electrical connections. This means we truly do have a machine that will fit just about any size operation.
Because of our wide variety of machine options, it's possible you may not be familiar with all of our models. So, today marks the first in a new series of getting to know your AutoFry. In this first blog post, we will dive deep into looking at the MTI-10x, our most popular unit.
For your convenience we've turned this blog into a video post! Watch below or read on to learn all about the MTI-10X.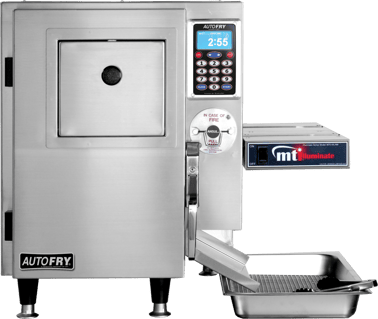 The AutoFry MTI-10X is an excellent asset to any commercial kitchen or business, featuring a compact design that can accommodate up to four pounds of product per fry cycle.
Starting on the outside of the machine, the MTI-10X keypad is easy to use, featuring a touch pad for manual timed entry. Much like the microwave in your home, simply type in a cook time and press start to begin the fry cycle. Users can also program up to 18 cooking presets for even easier frying!
Each AutoFry features a front food loading chute. Food is added to the chute prior to hitting the start button on any cook cycle. Food will come out of the exit chute when it is fully cooked and ready to serve. On the MTI-10X you have the option of a right OR left side food exit chute. Perfect for any kitchen layout or set up.

Because frying can often pose a danger to your employees, we've taken every measure possible to make our machine is the safest in the industry. Our lockable door handle prevents users from opening the machine while it's in operation, keeping them away from hot oil. Even if you choose not to lock your door handle, the AutoFry has a built in safety mechanism that shuts the machine down if the door should be opened, keeping your employees safe.
Additionally every AutoFry model has a build in ANSUL Fire Suppression system. This can be activated in two ways: manually through the pull tab on the front of the unit, and automatically via the fusible link on the inside of every machine. Our AutoFry ensures that even in a worst case scenario situation, if a fire should ignite, the AutoFry will damper that fire within the machine, saving your kitchen and other equipment surroundings.

Inside each AutoFry is a unique temperature probe that sits in the oil vat and allows for AutoFry's SimpliFry technology to ensure your fried food is cooked to perfection each and every time. The temperature probe measures the drop in temperature as the food is added to the hot oil. If there is a significant drop in temperature, AutoFry will automatically adjust the cook time to compensate for that drop in temperature. This smart feature of AutoFry is one of its most unique and important features. It allows AutoFry to ensure that no matter how large or small your order is, it is cooked consistently every time.
The Automatic basket in each AutoFry machine is removable for easy cleaning, and dishwasher safe. It will drop and lift food from oil for perfect frying applications. The built in shake feature will prevent food from sticking as it cooks, and can be turned off for more delicate foods. When it's time to remove food from the oil, the basket will lift and drain food for 12 seconds before dumping the food out the side exit chute.
To keep AutoFry ventless, each machine operates with a three filter system. The first, a Grease baffle, is reusable and dishwasher safe. Catching grease laden vapors at a macro level. The next filter, a custom made mesh filter, is also washable and needs to be changed twice per year. Finally, the charcoal filter not only deodorizes air as it's pushed out the top of the machine, but it also absorbs extra grease and odor-causing chemicals in the oil fumes. Charcoal filters should be changed, on average, every three months.

All of the interior components of the AutoFry MTI-10X are removable for easy cleaning. And while the heater assembly should be hand washed with a damp cloth, the remaining elements including the front loading chute, Teflon basket, splash guard, heating element, oil pot and exit chute are all dishwasher safe. This makes for the easy cleaning and maintenance programs. In fact, daily cleaning should take less than five minutes per day and weekly cleaning can be completed in just 15 minutes.
Best of all, every AutoFry comes with an extensive warranty package including 1 years on parts and labor, 3 years on the electronic controls and five years on the fry pot.
To learn more about how AutoFry can benefit YOUR business, give one of our friendly sales reps a call at 1-800-348-2976 or 508-460-900. Happy FRYday!
Share this post