When you're building a menu that customers will crave, you have to think of every little detail, from the type of burger buns you'll use to the garnishing on your plates: every detail maters. And perhaps no detail is more important that what style of french fries you will serve with your dishes. You might think that all fries are the same, but I'm here to argue otherwise.
From shoestring to waffle fries, tater tots, disco fries and everything in between, the specific style of fried potato you choose to serve alongside your main dishes can really make or break a meal. Furthermore, if your fries are really good, they can develop a following of their own --- which means they're way more important that anyone gives them credit for. So grab the ketchup as we look at all the different styles of French fries and how they can complement your menu.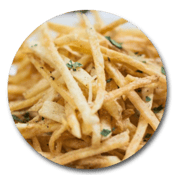 Shoestring Fries – This French fry is a perfect example of why fry style matters. Because lets face it, your Big Mac wouldn't be the same with a side of curly fries! Shoe string fries are a skinny cut fry, typically fried to an extra crispy exterior and served with a side of ketchup. These are definitely one of the most popular fry styles as they're widely loved and also cook faster than most of the other fry styles: a win-win for any kitchen operator.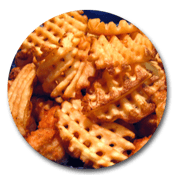 Waffle Fries – The underrated waffle fry is definitely my favorite style of French fry. Potatoes cut in a waffle pattern make the perfect base for a plethora of toppings and sauces. Usually extra crispy on the outside and nice and fluffy on the inside, these spuds are crave worthy. I especially enjoy when restaurants offer them plain or fully loaded with cheese, bacon and chopped scallions! It takes an ordinary dish to an overindulgent place that is pure bliss for my taste buds!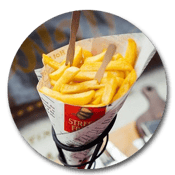 Belgian Fries – Pop Quiz! Who invented fries? Belgians, or the French? OK, that's a trick question because the answer depends on who you ask, but one thing is for sure: Belgians make a PHENOMENAL fry. The secret to Belgian fries is that they are fried twice, and while there is some science behind the double fry methodology, all I know is that they taste amazing after that second frying, so I say, fry on! Typically served in a cone with a side of mayonnaise, these fries are crunchy, delicious, and the perfect side on any plate.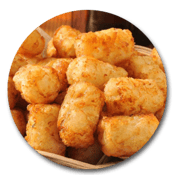 Tater Tots – Forget about the soggy tater tot mess that school lunches used to include, tater tots in todays world are crunchy, salty and insanely flavorful. The undervalued potato tot is another one of my favorite French fry styles and they're not often found on menus. Why they're neglected is beyond me though, because they make a wonderful crunchy bite sized treat. They're especially wonderful when tossed in a mixture of seasonings before being served. Try garlic salt, truffle oil or even some Old Bay on top of your tots to give them an added flavor boost.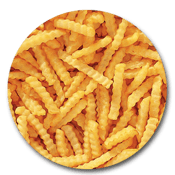 Crinkle-Cut Fries – Another French fry standard and fan favorite, the crinkle-cut fry is traditionally a thick cut fry, cut with a corrugated slicer to give it a wavy texture on all four sides. These fries are usually nice and crunchy on the outside and soft and fluffy on the inside. They make a nice base for a poutine or served on their own with a side of your favorite dipping sauce!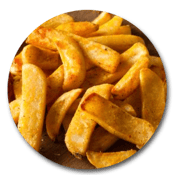 Steak Fries – Just like their name sake, these fries go perfectly alongside a nice juicy steak – I think partially because they're so large, they make an excellent utensil for sopping up any leftover steak sauce. Like Beligian Fries, the steak fry is also most commonly twice fried due to their large size and go really well with fry sauces, like this one!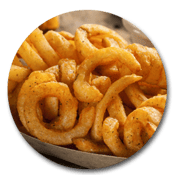 Curly Fries – Rounding out our list of fry styles, quite literally, are the spiral fried spuds known as curly fries. These fries are usually seasoned with a spicy blend of paprika, cayenne, salt and pepper that makes them impossible to eat just one. They make for a unique side dish option that pairs well with a wide variety of main courses!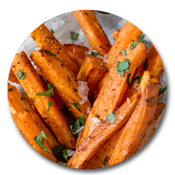 Sweet Potato Fries – Because no French fry list would be complete without a sweeter option, sweet potato fries make an excellent side for your main dishes. These crunchy treats are the perfect balance of sweet and salty – not to mention, they're also viewed as a healthier alternative to regular fries, even though science has proven that each potato type has it's own merit.
---
There you have it: eight unique French fry styles for your side dish consideration. And while we know there are a slew of other side options for you to think through (hello, Onion Rings!) we all know that people love fries the most!
So, which French fry style works best for your business? Take some time to really think about your menu items and which type of fry will compliment your dishes the best! Don't be afraid to try new styles and gauge customer feedback. Remember, specials and limited time offers make for great opportunities to try something new!
If you're looking for some fry recipes, check out these helpful blogs: 7 Over the Top(pings) French Fry Recipes and 7 More Over the Top French Fry Recipes!
As always, we're wishing you a happy FRYday!


Share this post